Curriculum Implementation
The curriculum is designed and implemented in such a way that it builds on prior knowledge and skills and lays the foundation for future learning.
Each themed unit begins with an entry point which introduces the children to the learning that they will be engaging in. This is followed by a knowledge harvest and activities that explain main ideas that they will be learning about. Throughout the unit the children are given opportunities to research and record in a variety of ways including using technology. This is where the children develop, practice and deepen their knowledge, skills and understanding. Exit points conclude the unit and this is where the children are given opportunities to reflect on and celebrate their learning.
English and Mathematics are taught daily, including Phonics in Reception and KS1. Please see Reading, Writing, Phonics and Mathematics pages for further details.
---
Digital Strategy
Technology sits at the heart of LEO Teaching and Learning Strategy and enhances learning for children as well as transforming how staff and children can work together collaboratively.
Every child in KS2 has access to their own 1:1 Chromebook which superbly supports them with their learning at home and in school. In addition, every classroom in EYFS and KS1 has access to a wide range of devices that are used to deliver great teaching and learning for all pupils. Teaching and learning is enhanced through the use of a wide range of tools including Google Classroom, Seesaw, Nearpod and Kahoot!.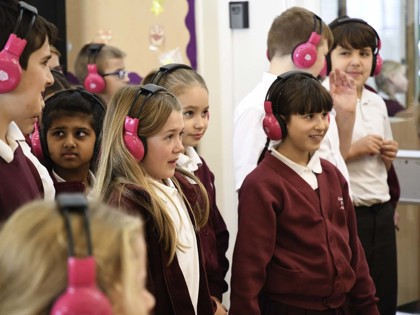 ---
Specialist Teaching
Children enjoy lessons which are delivered by subject specialists and instructors.
These include:
Sports coach, Swimming instructor, French teacher, Forest School teacher, Music specialists which include drumming, strings, piano and guitar.